What Do You Really Own?
Minimalist millennials and the allure of the 'burbs.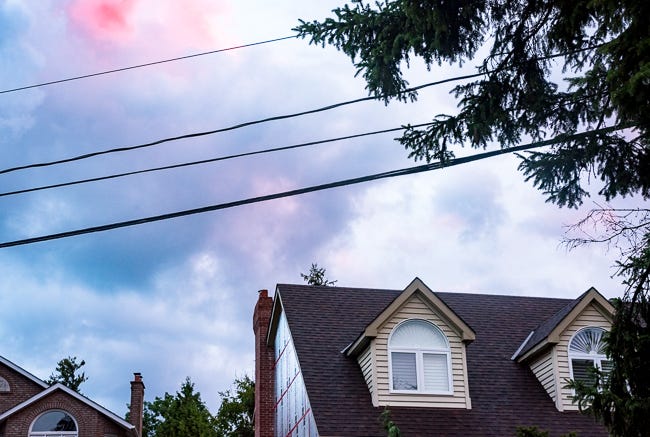 I'm writing this from a three-storey historic home in the suburbs. It's my third stay here in the past few months. Every time my friend and her husband go away, I trade my cramped kitchen for one with two sinks, a double-paned fridge, and six-burner stove; my splintering floor for shiny hardwood; my single television for four. Instead of staring at the ceiling every night from the bathtub in my windowless bathroom, I gaze at the silhouette of the forested valley behind the house as I float in their hot tub.

Last night, I noticed one of the lights on the side of the neighbour's house flickering while soaking in the backyard. Convinced my mom haunts me through lights, I studied the flashing, realizing that it had a calculated pattern. I thought of Parasite, the anti-capitalist movie in which the father, trapped in the basement of a mansion, attempts to communicate Morse code through a flickering light. I thought too of how the poorer families in that story leech off of the wealthy family by enjoying all the amenities of their house. Here I am, playing pretend in my friend's lavish life.
Whenever I come out here, I walk sidewalk-less streets after dinner taking photos (the ones included in this piece were taken during previous house-sits this summer). The suburbs have always been a site of fascination to me: they illicit both comfort and unease. I know, from living in a suburban home for a few years of my childhood, that an entirely separate universe exists within those walls, so insulated from the outside world. In New York City, tall curtain-less windows framed snapshots of the lives inside; oppressive summer heat forced windows open, offering snippets of arguments, sex, laughter. Here, the shades are drawn, windows are either dark or illuminated by the glow of a giant T.V., and the hedges are perfectly manicured. Generic facades reveal little personality, but for the people who live inside, each square inch of their interior world is rich with meaning. The attached garages look bigger than my old studio apartment in New York, and yet, almost every house has at least one car parked in the driveway. Do they park the cars outside to show them off or because their garage is too filled with stuff?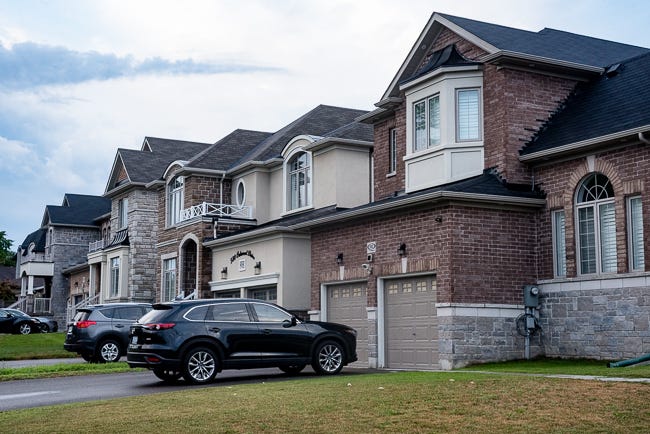 "The suburban life is one of independence, a self-contained homestead where the American family can realize its desire and potential. Even the family car gets its own bedroom," writes Ian Bogost in the Revenge of the Suburbs. Long before the creation of the 'burbs, collective life was the norm, but in the early-18th century, Enlightenment values emphasizing private property and individuality flourished (thanks, John Locke), and people began defining themselves by their material world. At the turn of the 20th century, American manufacturing and transportation skyrocketed: instead of relying on the general store or local craftsperson, "shoppers" now had options—a culture of consumption and accumulation was born. Then, the post-World War II housing boom gave shoppers big houses to fill with all their stuff. Add to that a generation of parents who grew up deprived during the depression, and you have a working population ready to embrace capitalist modernity.
In this context, it's pretty easy for consumption to lead to clutter. We consume so excessively now that even IKEA has launched a global buyback program. An entire billion dollar storage industry is built around our addiction to material goods. Shows like Hoarders make entertainment of it like it's an illness. While shows like Marie Kondo's Tidying Up offer the cure—minimalism as self-improvement.
For a largely overeducated, disenfranchised generation of millennials who might not have the same desire to accumulate as their parents, minimalism surely seems enticing. While in the 1950s, freedom was often measured by the size of one's suburban home, today, "the 'winners' of globalization flutter through apartments, cities and jobs, not held back by material accumulation," writes Astrid Van Oyen. This freedom of choice requires a certain level of financial security, but for those who have it, the mantra is out of sight, out of mind; the physical storage locker is swapped for "the cloud." Minimalist millennials are still hoarding, we're just hoarding differently: all the objects and experiences consumed are archived on social media; thousands of images accumulate to form an identity for us to repeatedly find ourselves in. Perhaps for millennials, luxury is never possessed, only encountered.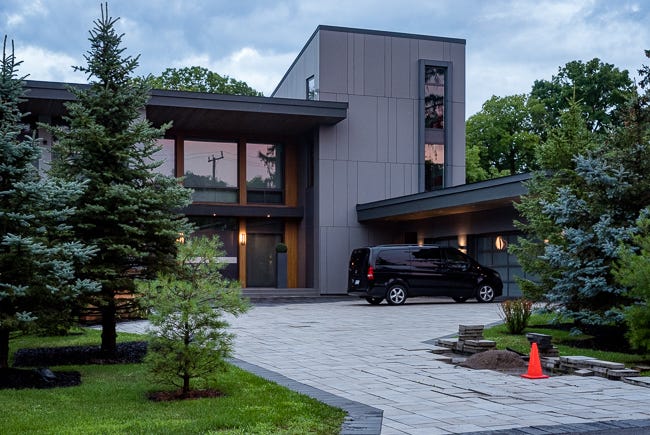 A boomer buys a new car and parks it in their driveway, a millennial buys a succulent and Instagrams it—both use their possessions to craft an image of a particular lifestyle. But maybe it's about more than identity-formation, maybe our homes and what we choose to fill them with are more propelled by a need for ownership and security.
Look no further than how we respond to uncertainty and crisis. When the Toronto government mandated new restrictions last weekend, I went looking for disinfecting wipes, anticipating another wave of hoarding (I know, I'm a part of the problem). My mom—after her own experiences of unexpected loss—used to stockpile toiletries, perpetually afraid of scarcity. Survivors of war are known to respond to their trauma by hoarding. In a capitalist society where spending money is one of the few ways we can exert our power; accumulation and abundance provide the antidote to any feeling of precarity or lack. The problem is, it's never enough. No matter how good we feel when the fridge is full, or how much we love the person we become in that dress, we always crave more, not just because the feeling is fleeting, but because we never truly find ourselves in our possessions. 
"People are so completely and so powerfully alienated that they are reduced to things; in the meantime, the things they produce and the things they purchase have acquired all the livingness that people have lost." —Elizabeth Chin, My Life With Things: The Consumer Diaries.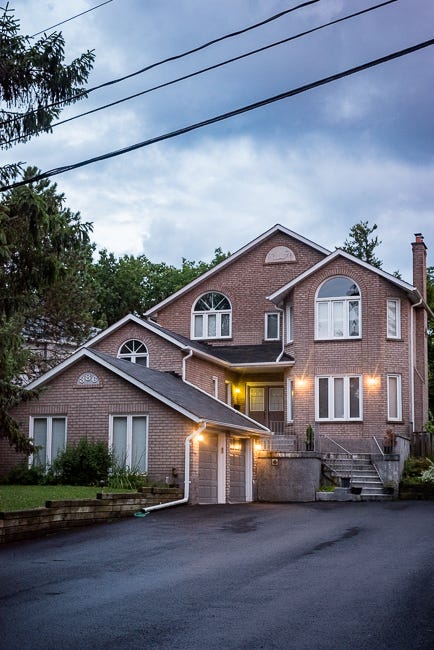 The real reason I'm out here in the 'burbs is because my home feels toxic. Every piece of furniture sparks a painful memory or emotion. It didn't used to be this way. A few years ago I made the mistake of subletting my apartment furnished and the tenants damaged many of my family possessions. Returning home, I felt violated; and ever since, I feel this yearning for my objects to regain their sentimental value; to regain a sense of ownership over my home. But can we ever truly own anything? I'm increasingly convinced our sense of possession is an illusion. If you've ever had your family home sold and returned to see someone else living there, you know the feeling—the sense of confusion when you see something you were so sure was yours, occupied by someone else. The happiness I derive in this nice house, enjoying all the comfort and convenience that money can buy, is superficial, because this isn't my home. But even if I did live here, would it really be mine?
"The house isn't mine. I don't own it so much as I take care of it. The cracked slab on which hit all rests—is a gift. Not to me, but to the future. The house is just passing through my hands. It's not a purchase, it's a husbandry. James Guthrie writes, 'that ownership of all kinds is a precarious business at best, or at worst, a form of self-delusion'."—Eula Biss, Having and Being Had.

Best,
Anna
P.S. Next week will continue the theme of our relationship to the material world. Vanilla tourists jet-setting from one airspace to another while home décor trends shift from minimalist to cottagecore—what do the spaces we're drawn to say about our identity?
---
Reading 📖
Ever since reading Eula Biss's NYT Mag essay about white privilege (a must-read), I've been obsessed with her work. Her new book, "Having and Being Had" expands her confrontation of whiteness to a larger interrogation of capitalism.  
She questions the value of work and art, the meaning of leisure, luxury, and time, the contradictions of consumption and accumulation, all with wit and humility. 
"My adult life can be divided into two distinct parts—the time before I owned a washing machine and the time after. I consider the possibility that the washing machine, more than the house, has changed my life. I call my sister and a tell her that what I've really done is buy a $400,000 container for a washing machine. As I say this, I'm aware that the cost of our house was closer to $500,000. But I don't say that out loud, it makes me too uncomfortable."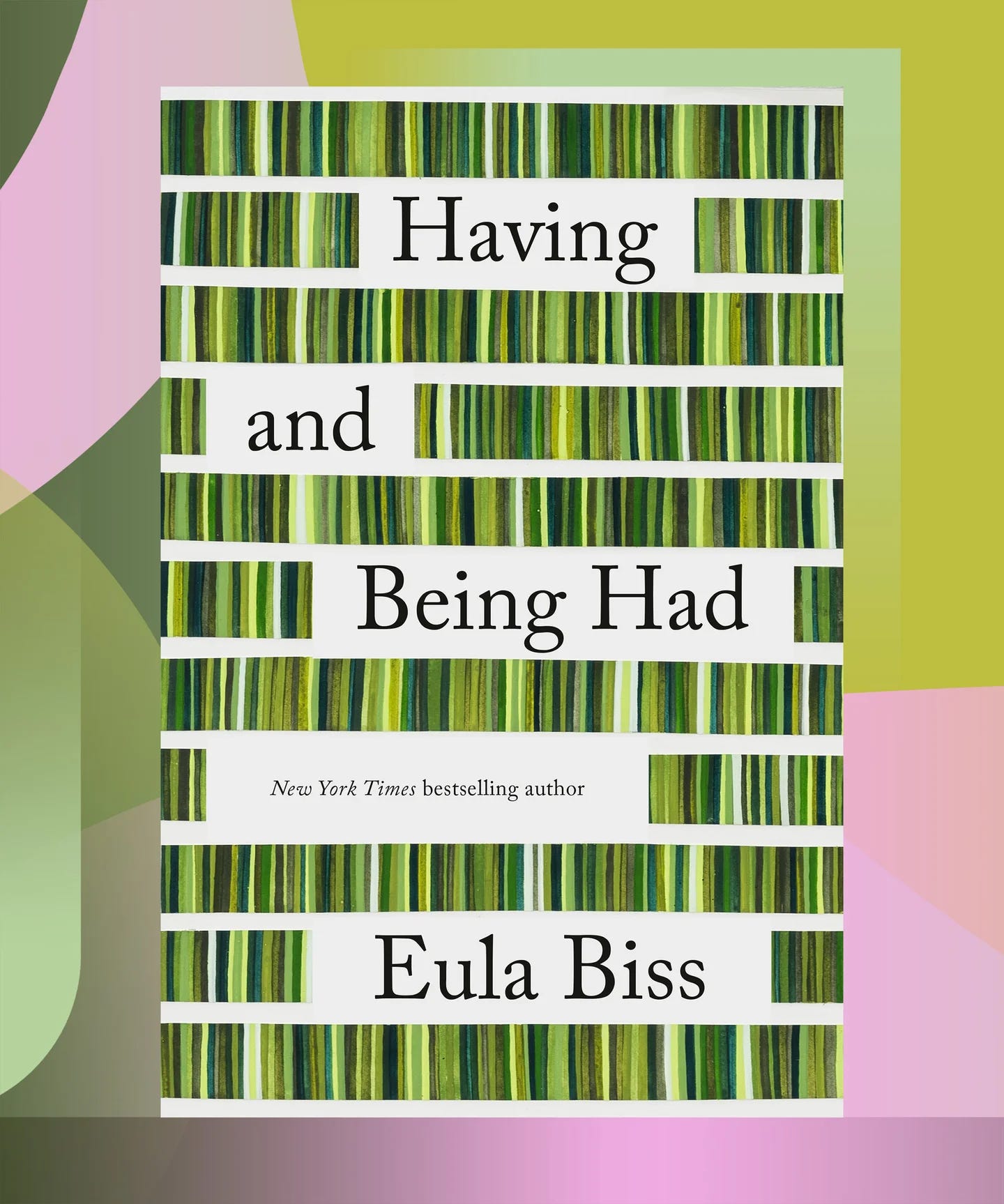 Image: Riverhead Books via Refinery29
Each chapter (only 1-3 pages long!) reads like a diary entry, but her writing never becomes overly confessional nor confrontational. I'm just uncomfortable enough. The real question will be how she ends it—will she actually make an effort to change the oppressive structures she participates in? 
Articles:
---
Watching 📺
Emily in Paris is the perfect example of effective PR. No one explicitly recommended it to me, but I just had this vague sense that everyone was watching it. Well, I can confirm that it's not worth the illusory hype (yet I keep watching? 🤦🏻‍♀️). Created by Darren Star (behind Sex and the City), I thought it would be a feel-good take on modern feminism. Instead it upholds a long tradition of rom-coms that rely on the same damaging tropes and cultural cliches.

Emily, a clueless young marketing exec played by Lily Collins, is hired to lend her American perspective to a Parisian fashion and beauty firm. She doesn't bother to learn French and treats Paris like its her personal Disneyland. The show is a metaphor for American imperialism, offering little more than a lesson on how NOT to live and travel in other countries. It's an "excruciating exorcism of French cliches," writes Rebecca Nicholson—accurate. 


Watch if: A global pandemic and recession has turned your brain to mush and you crave the b-list rom-coms of your childhood. 
---
Listening 🎧
When I listen to Ella Fitzgerald, I'm taken back to eating breakfast on snowy mornings when I lived in Montreal. Or I'm in Bryant Park on a sunny spring day, taking an editing break for my solo lunch. I'm excited to have a new Ella album to build new memories with—Ella: The Lost Berlin Tapes.
"Fitzgerald was to singing what Yo-Yo Ma is to the cello: utter perfection, personified," writes jazz critic Giovanni Russonello. "Fitzgerald thinks of the note, she hits the note. She learns the song, she becomes the song. Still, there's a sacred exchange going on. Rather than beckoning you in, Fitzgerald is bringing the music to you. And the effect is undeniable — you're disarmed."
Just to bring everything full circle, I leave you with these gems from Emily In Parasite.
I miss the Musée d'Orsay but I'm excited for my new adventure! 💕
#emilyinparasite
---