After Witnessing Death, Halloween Lost Its Fear Factor
Plus some sweet grief and sugar-themed content.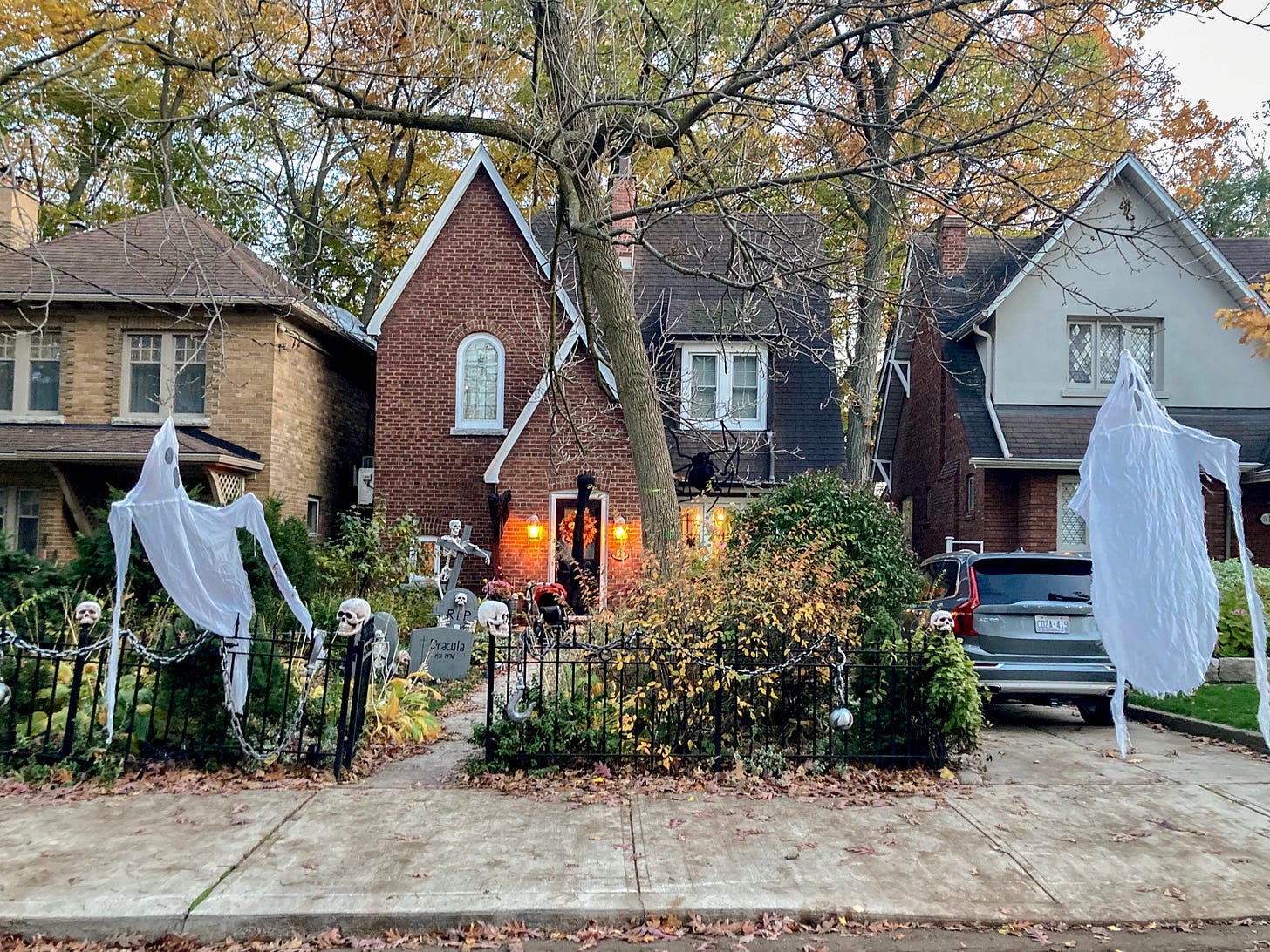 Image: ©Anna Haines 2020

Reasons Why Halloween Is The "Best" Holiday:
It isn't centered around family or romantic relationships (less potential for conflict or feelings of loneliness).

You have an excuse to be anyone but yourself for the day.

It *falls* during our most visually stunning season.

Sugar-laden foods are the main course (perfect for sweet tooths like me).
But the real reason I love Halloween? It's all about darkness and death. While most of the year, I walk around feeling like an ominous thundercloud threatening a clear, sunny sky, for one day of the year, my cynical personality feels just right. Rarely do I feel like I belong on the streets of my picturesque, happy-go-lucky neighbourhood, but this month, admiring front lawns turned into mini-graveyards adorned with skeletons, I feel right at home. Yet, I also sense an uneasy disconnect; I see a blatant contradiction in these grand displays of the gruesome and grotesque­—every other day of the year, we live in complete denial of death.
This year, COVID-19 has seemingly forced everyone to wake up to the reality that we all die, and yet many people still opt for ignorance. Apparently, we're hardwired to think this way—a neurological study published last year found our brains categorize death as something that happens to other people; we consider ourselves exempt from the one inevitable outcome we all face.
"What we [the United States] were completely missing, however, was the concept of death itself, death absolute. The kind of death that comes to us all, irrespective of position. Death absolute is the truth of our existence as a whole, of course, but America has rarely been philosophically inclined to consider existence as a whole, preferring instead to attack death as a series of discrete problems." -Zadie Smith, Intimations.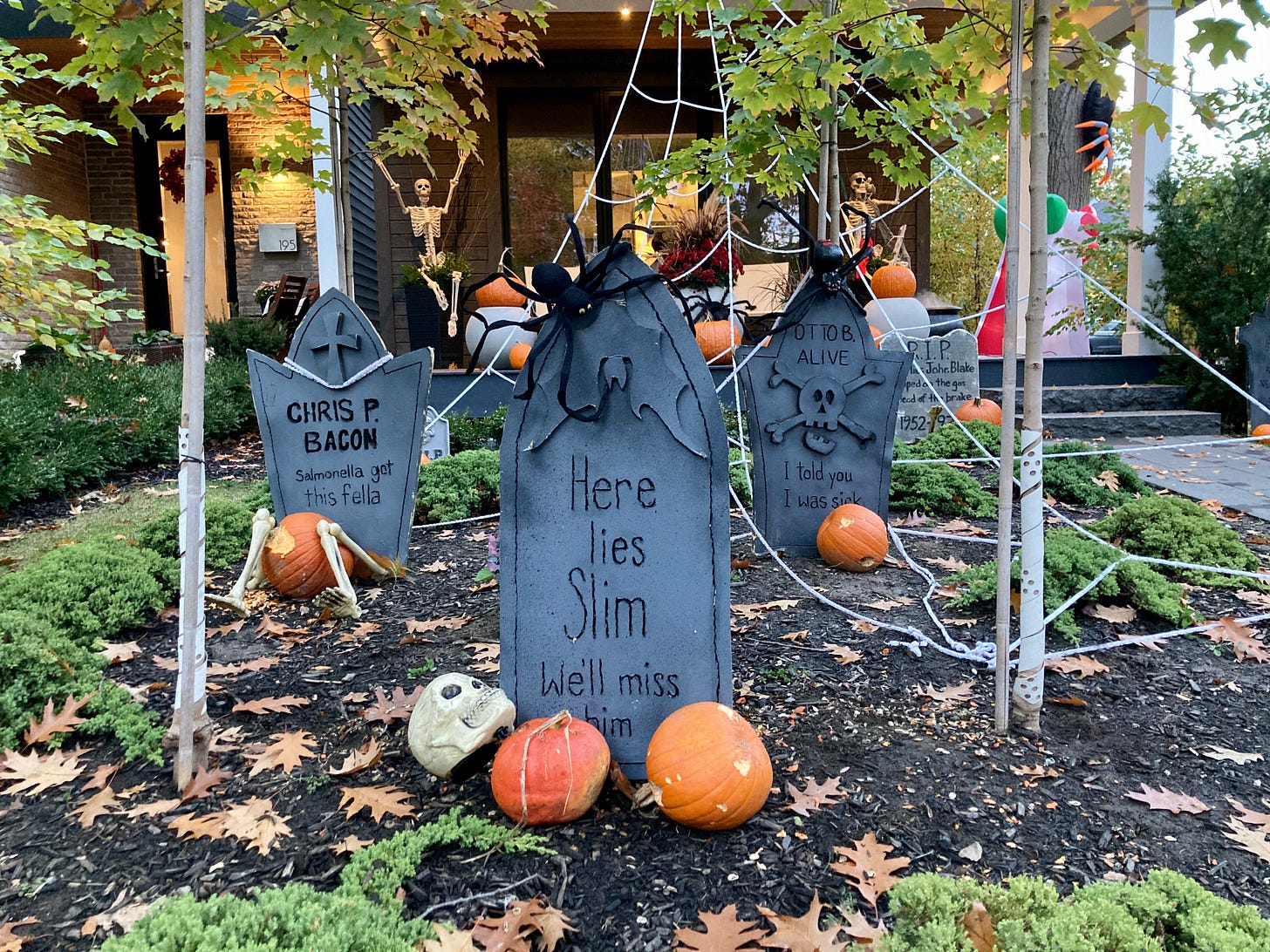 Image: ©Anna Haines 2020
Don't get me wrong, a certain level of death denial is necessary to be a functioning human being. I recently watched She Dies Tomorrow, an indie-thriller in which the fear of dying the next day spreads like a virus among all the characters. Upon realizing their life will be cut short, the characters, not unlike someone who is ill receiving a terminal diagnosis, start living without any limitations: they break off unfulfilling relationships and blow their money. But living life to the fullest like this isn't realistic if you end up sticking around longer than you thought. It's also worth noting that being able to ignore the reality of death is a privilege; the fact that we have medical institutions to which we can relegate death is, in many ways, one of the benefits to living in a modern, developed society. But I still think the cultural denial has gone too far.
Perhaps Halloween doesn't engage with the reality of death because we so rarely see it in real life. Approximately 60 percent of people die in a hospital in Canada and 20 percent die at home in the United States. It wasn't always this way, family members used to see one another through right to the end. At the turn of the 20th century, the living room literally became the "living" room because it no longer served as the parlour for laying out the dead. Instead of dying at home, people were whisked away to institutions to die in private. As a result, we've been censored from death in real life. Yet, we've simultaneously become desensitized to witnessing it on screen. As a result, death has become so fantastical that it doesn't seem real. We consume it on our own terms—in a two-hour dose of a horror movie, a thirty minute sprint through a haunted house, or a single day devoted to Halloween—so we can gain sense of control over the unknown and feel safe.
"You can experience the level of arousal, the somatic sense of fear, and know in the back of your mind that it's not forever," psychologist Dr. Steven Marans says when asked why people watch horror films. "We are sometimes drawn compulsively to the very things that scare us—as a method of mastering them."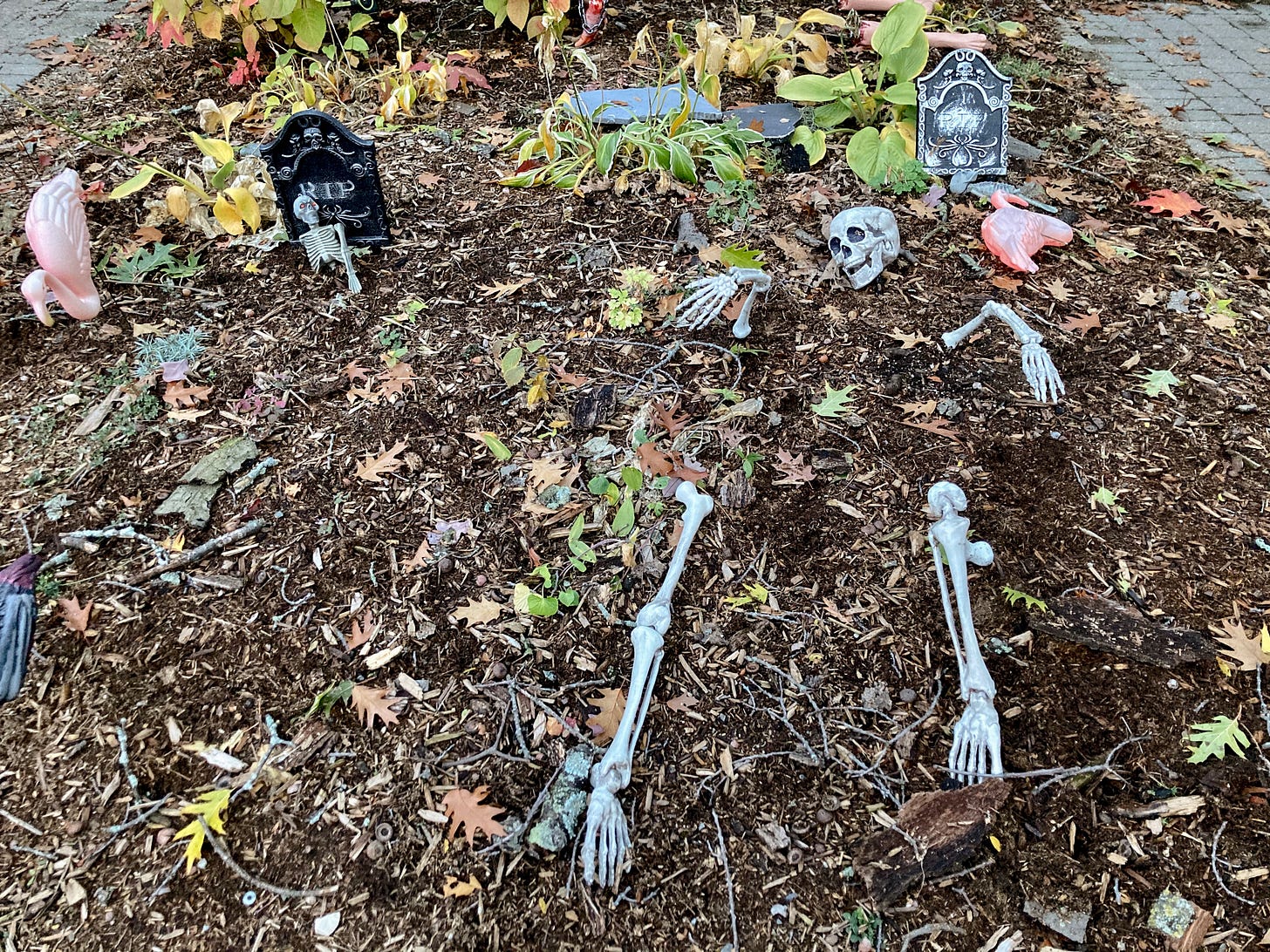 Image: ©Anna Haines 2020
As much as I love Halloween, I've always been a scaredy cat. As a kid, I would lose sleep over an impending amusement park visit, anticipating the sheer terror I'd feel on a rollercoaster. I went through an intense paranoid phase as a preteen—I was so convinced someone was going to break into my home every night, I could only fall asleep when the warm light of dawn began to seep through my curtains. The Ring almost put me in therapy. Unsurprisingly, my worrier tendencies as a child have transformed into general anxiety as an adult. I still catastrophize, and avoid adrenaline-pumping experiences and horror movies, but I'm not as fearful as I used to be. What changed? Seeing someone die.
What always made a "scary" experience scary to me was the unknowability surrounding the worst possible outcome—death. Every life-threatening moment in my life—big or small, real or imagined—always incited fear because death was a mystery, some horrific event I couldn't control. But once I witnessed the act of dying, and had my worst case scenario play out in real life, my life took a different hue, one marked by death. I used to exist in a constant state of nervousness yet completely in denial of death, now I anticipate death at every corner, and ironically, I'm more relaxed. When the worst has already happened, when the nightmare becomes real life, the fictional version loses its fear factor. Waking up to the reality of death has made life feel more precious but also less scary. Which makes me wonder, how might we live if we engaged with death in a more meaningful way on Halloween?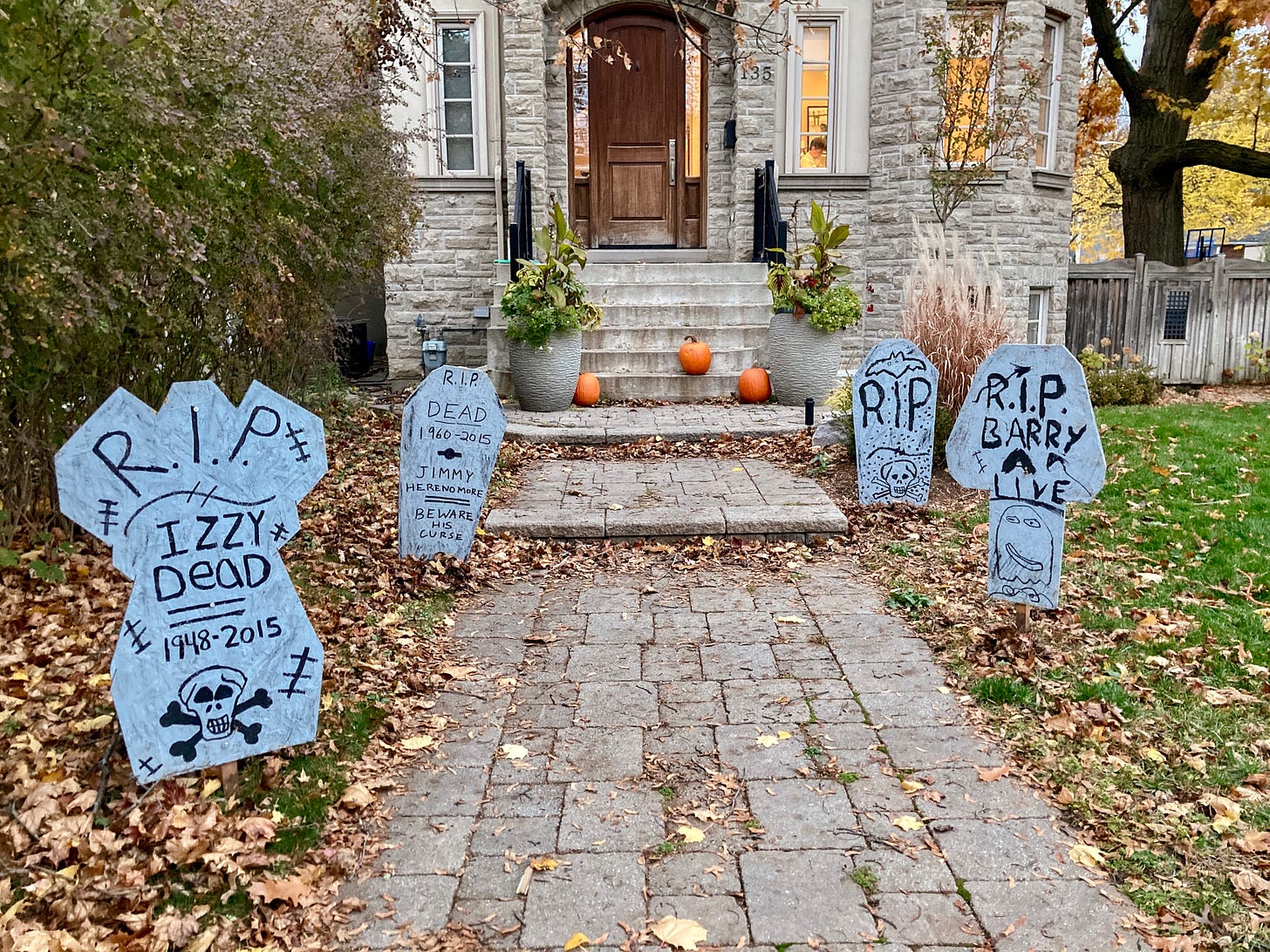 Image: ©Anna Haines 2020
Long before the onslaught of cute costumes and bursting bags of candy, Halloween was centered around death. In the first millennium A.D., October 31 marked the beginning of Samhain, a Celtic Irish holiday that honoured the shift from a season of life to one of death. Hallows' Eve preceded All Saints' Day on November 1st and All Souls' Day on November 2nd—completing a three day festival devoted to honouring the dead with feasts, vigils, and prayers for recently departed souls. As Western societies secularized, the religious fervour of Halloween faded over time and collective ways of honouring the dead (beyond the funeral) largely disappeared. Many other cultures still have a holiday devoted to the dead—Mexicans celebrate Día de Muertos (Day of the Dead), for example—but ours has been overtaken by capitalism, and become completely removed from reality.
Our refusal to face our mortality is a missed opportunity. While anticipating death, according to terror management theory, can make us less open-minded, aggressive, and vulnerable to addiction, research shows that the heightened awareness can also make us more humble and grateful; motivate us to improve our physical health, build supportive relationships and communities, and engage in self-enriching behaviours like creative expression. Ironically, embracing mortality enables us to live with less fear, and more life. If we could bring a little dose of Halloween's original sentiment into our daily lives, would we scare in the same ways we do now?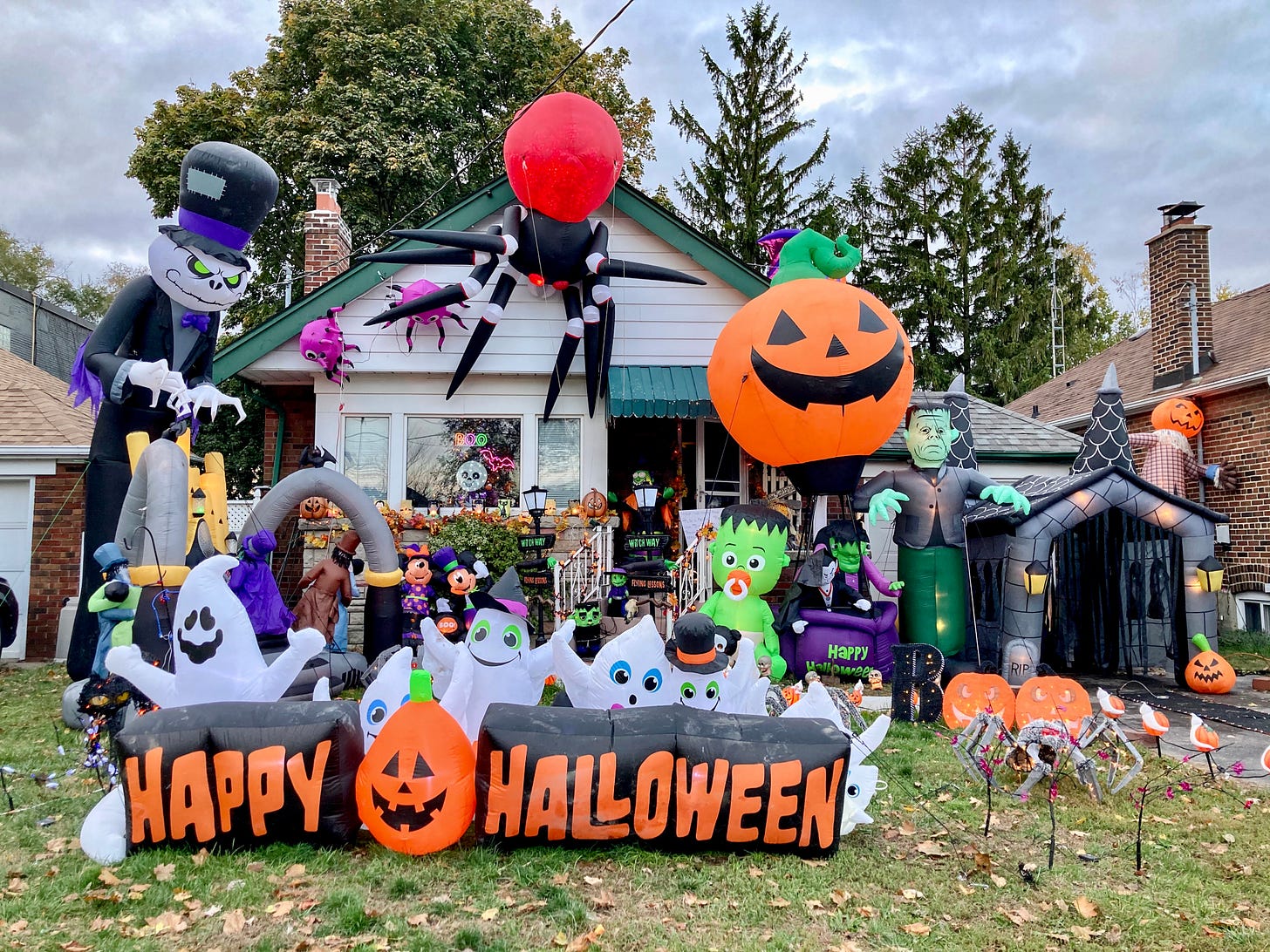 Image: ©Anna Haines 2020
I'm optimistic the tide is turning. The death positive movement, which encourages the normalization of death and end-of-life planning, has been gaining traction in recent years (and COVID-19 has only increased its popularity). Conversations about death are increasingly becoming more mainstream due to a proliferation of death doulas, death cafes, and digital end-of-life planning tools. Mortician and author Caitlin Doughty who is determined to "redeem the image of the dead body," has spearheaded the death positive movement with The Order of the Good Death.
"I see the dead body as an incredibly useful tool for grieving, for engaging with the mortality that you never got a chance to explore because the bodies were hidden away from you. When mom dies at home, yeah there's a primal fear that she transmogrifies immediately into some creature that's actively decomposing and threatening you in some way. Call a professional. Get someone to get her out of here right now. Then we can chemically preserve her so she's safe to be around. It's a narrative that's been built up over the last 100 years to our absolute detriment as a culture." -Caitlin Doughty on Call Your Girlfriend.
I'm hopeful one day soon, I won't feel like a downer every time I bring up death, because embracing death, to me, is essential to living a full life. I might always be waiting for our culture to engage with death without the violence, terror, and gore. But for now, I'll settle for Halloween in its current commercialized form; I'll take the one day when I can unapologetically let my darkness shine.
Best,
Anna

P.S. Best, will be going on hiatus for the next while. But she still has lots of stories in the pipeline, so please do stick around. (I might still send out article reco's, stay tuned!).
---
Reading 📖
I don't have a spooky book to recommend this week, so instead I'll offer an overstuffed bag of bite-sized stories on grief, sugar, and my favourite holiday.

🍬 This Halloween, consider noticing the subtle differences in candy packaging—the font will influence what you taste. Rounder shapes have been found to make food taste sweeter, angular font creates a sour expectation. This eye-opening piece on neuro-marketing is a sweet compliment to last week's newsletter—sans serif font communicates transparency and authenticity (I.e. the diet versions of popular drinks use this font).
🍭 Did you know we have receptors for sugar not just on our tongue, but all over our body? Or that most of the sugar you consume doesn't bind with the receptors in your mouth? It's calories we consume but never taste. You don't have to have a sweet tooth to appreciate this deep dive on how sugar tricks our biology.
🍧 Maybe it's good then, that there is a growing appeal for desserts that are "not too sweet," (a refrain that is actually considered phrase to the Asian diaspora).
🍫 On a more serious sweet note, "Craft chocolate definitely won't save the world, and it probably won't even save the chocolate industry, but it will continue to be an entry point [for understanding the world]," writes Alicia Kennedy.

👨‍👩‍👧‍👦 But more important than the candy, is the act of opening our doors to our communities. "Halloween is about the recognition of our collective dependence—the vulnerability and terror that comes from needing other people, in this life and the next."

👻 "Ghosts reflect how we see the dead and how we understand a place," writes Andrea Kitta. So maybe we should question why ghosts are always so white.
👹 How do masks affect our empathy? "Mirror neurons trigger our sense of empathy. Masking breaks this connection, making the masked person seem unknowable, perhaps even, inhuman. And yet they are all too human. In fact, some horror movie mask designs nod to the fact that we all have a capacity to do horrible things."

💀 Have you heard of anti-natalism? "The quality of human life is, contrary to what many people think, actually quite appalling," says philosopher David Benatar. So why be born at all?

🍸 Terror Management Theory suggests we respond to reminders of death in three ways: 1) seeking safety, 2) denial, or 3) distraction. But, "the occasional reminder of our own mortality doesn't have to cause us paralyzing anxiety, or send us running to Amazon with a credit card in one hand and a martini in the other," suggests Emma Pattee.
📅 Does grief actually have a timeline or discreet stages? Shayla Love challenges the idea for Vice.
🖤 But maybe our brains are designed to grieve. "Bonanno's work, which has redefined the science of grief research, revealed that Freud was wrong about work, Lindemann was wrong about repression, and Kubler-Ross was wrong about everything," writes Derek Thompson in his powerful personal essay in The Atlantic. "The deepest grief is powerful, but sometimes short-lived, and most of us are wired to compartmentalize our most heart-breaking tragedies."

🍁 An interactive spooky fall poem about the transition of seasons amidst COVID-19.
🍂 "It's, like, 4 p.m. How is it completely dark outside? Crunchy piles of leaves for about a week. I'll be the first to say it: this is my favorite season that lasts eighteen to thirty-six hours."

---
Watching 📺
Let's be honest, Killing Eve (BBC, Crave) went downhill when Phoebe Waller-Bridge left after season one. But watching the latest third season, I was pleasantly surprised to find Villanelle (Jodie Comer) and Eve (Sandra Oh), and even the most hardened character, Carolyn (Fiona Shaw), grieving. All three of them are "strong" women but cope with their grief differently.
Unsurprisingly, dwelling on the character's grief led to some disappointment among critics—"After two seasons of dog-eat-dog chases and ruthless fight sequences, this sudden slump feels odd," writes Shreya Paul. But I pleasured in watching Sandra Oh depressed in her dreary London bachelor. I found catharsis in seeing Villanelle journey to find her Russian family; comfort in witnessing Carolyn's refusal to soften for her wellness-obsessed millennial daughter (who aptly describes her mother as an "emotional iceberg").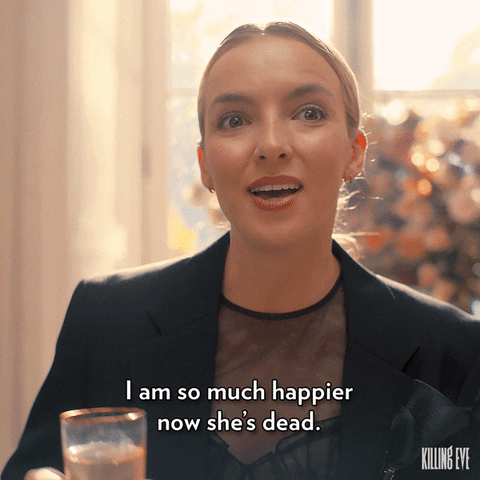 Graphic: BBC America
Ok maybe the plot isn't a nail-biter, but the production value is still top-notch, Eve and Villanelle's sexual tension is still enticing, the humour is still dark. Watching them galavant all over Europe feels particularly indulgent when we can't travel. Plus, Villanelle's performance and outfits are *to die for*.
Watch if: you like strong female-leads, dark humour, and European aesthetics. It's like, The Americans-meets-Fleabag-meets Barry.
---
Listening 🎧
Even if you've never lost someone or think about death as often as I do, I'm willing to bet you'll learn something from this Call Your Girlfriend interview with death positivity activist Caitlin Doughty. They get into death denial, the funeral-industrial complex, and how death is a feminist/intersectional issue, but all with enough humour so that the "heavy" topic still feels light (who knew corpse poop is a thing!?).
"It doesn't make sense to me why people fear the dead body. The dead body to me is so much less threatening than the living body. The living body feels mental and physical pain. A dead body is just chilling. [It] sounds like a vacation. It's hard to not be constantly churning around in your own mind. The idea of freeing myself from that actually seems like my heaven really."
I also had never considered how being in touch with your mortality presents an opportunity to be more present in your body. Doughty says she reminds herself that she is a future corpse everyday, to temper all the time she spends online.

The two takeaways: "Corpses aren't dangerous. Get your advance directive," says Doughty. "I cannot say it enough times: advance, directives, advance directives, advance directives." They offer practical tips on how to set up yours (it's easier than you think!) and how crucial it is to do so, especially if you are someone (like me) who has chosen family. ADVANCE DIRECTIVES PEOPLE.
---
🎃 I leave you with my favourite image from this series of what 2020 Halloween looks like around the world. "With drive-through haunted houses, characters masked to both scare and protect, and inventive socially distant candy-delivery methods, people are adapting to the moment as best they can," writes Alan Taylor.
"A home in Brooklyn Heights is decorated with a giant gorilla in celebration of Halloween on October 28, 2020, in New York City." © Roy Rochlin / Getty
---